What is blockchain? It is a system that enables maintaining records of transactions in a distributed, effective and permanent manner digitally. It is used mostly in connection with cryptocurrency and financial transactions.
There are countless opportunities for skilled Blockchain experts that have opened up in various businesses. Given that the technology is new, there is short supply of people with Blockchain experience and skill set.
The technology is expected to revolutionize the world, influencing everyday life and business. 
So, what roles/jobs does this field offer to those who want to make a career in it? 
Blockchain Developer: This job calls for server-side programming with good analytical skills. You will need to be thorough with blockchain systems end-to-end. This role will be of the highest demand within this industry.
Blockchain Quality Engineer: With blockchain being an intricate and complex technology, Quality Engine
ers are responsible to examine the quality of the product across all areas of its development. These professionals will have to do QA (quality assurance), planning, manual testing, delivering complex projects and framework testing, all while meeting QA standards.
Blockchain Legal Consultants: The blockchain technology is fresh on the scene, and the legality around it still vague and in its nascent stages. Being a legal consultant specializing in this technology is a lucrative position as there will be very few who are well-versed in the subject. You will have to grasp the process from development to the final implementation to be able to advise your clients on the risks and legal implications before or after they arise. 
Blockchain Designer: As a blockchain designer, you will be the bridge between the experts and the end-users who would ultimately use the technology. You should be familiar with UI (user interface) designs for web as well as mobile. 
Blockchain Project Manager: A blockchain PM will be the point of contact for the clients. PMs plan a project from start to finish and ensure its delivery to clients all while efficiently managing resources, time and budget. There are plenty of PMs in the industry but given the nature of this technology you need specialist knowledge to be able to deliver blockchain projects.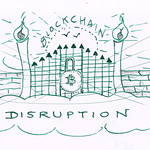 Apart from the fintech (financial technology) industry, blockchain will have application across diverse sectors, including banking, automation, analytics, management, coding, designing, manufacturing, healthcare, real estate, digitization and supply chain.
Top firms such as Google, Facebook, Microsoft and JP Morgan are already hiring blockchain professionals. The use of Blockchain technology to document various monetary and non-monetary transactions coupled with the growth of crypto currency, is only going to increase demand for those with expertise in this technology of the future.